K.R. Copeland
Reviewer
Poet/novelist Larissa Shmailo's latest offering, Patient Women, is a raw, unfaltering, fictional story (heavily peppered, no doubt, with the author's own personal anecdotes) that follows the tumultuous life of one highly likeable Nora Nader - a self-deprecating heroine with an indelible edge.
Nora, the daughter of an overbearing mother and an emotionally detached father; both Nazi prison camp survivors, is determined to assert herself and make her way through the world according to her own rules and regulations. Her whirlwind journey begins in 1970's Queens, NY, where Nora, at the tender age of 12, leaves home and takes to the inhospitable streets of NYC.
While battling a plethora of personal demons, including; sex, drug, and alcohol addiction, as well as severe depression ("I'm never happy. I always feel like Auschwitz inside"), we watch in horror as our protagonist devolves from Ivy League student, to waitress, to prostitute ("The best blow job in NY").
Both physical and emotional abuse is prevalent throughout the course of Nora's life, and slowly but surely long-buried secrets are unearthed.
With unrelenting determination, and a little help from her friends (specifically, a drop dead gorgeous drag queen turned AA sponsor named Chrisis, who assures Nora, in regards to sobriety/recovery, "If I can do this, anybody can.") Nora finds herself capable of both physical and spiritual ascent.
At moments painstakingly heart-wrenching, at others, hopefully poetic, Patient Women is ultimately an in-your-face tale about the resilience of the human spirit, in the midst of familial and societal discord, and the ability to overcome seemingly insurmountable odds.
Read the whole December issue of Midwest Review here
Read more »
 Hurray and congrats to Larissa Shmailo, her new novel Patient Women was reviewed in Books for Readers #179. Here is an extract:
Probably the biggest surprise of my summer reading was Patient Women by Larissa Shmailo. Shmailo is a highly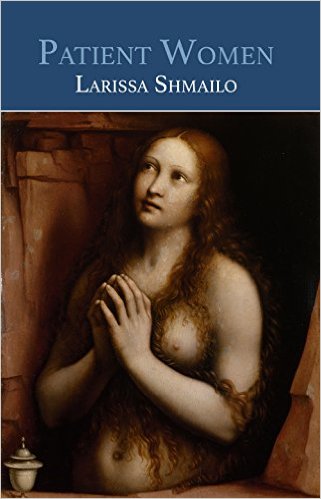 accomplished poet, editor, and translator (see my review of her poetry in Issue # 169) . She does a lot of so-called "mixed" media, and she blogs at larissashmailo.blogspot.com. She is productive and successful, and lives a rich life in the arts. 
She is also a survivor and child of survivors, and in her new novel Patient Women, she fictionalizes pieces of her life and recreates passages from her parents' lives as well as creating searing poems ostensibly written by her character Nora Nader.
There is plenty of recreational sex and drugs and drinking and also sex work, and brilliant recreations of the downtown milieu of New York City in the nineteen seventies. Much, much sensation and despair and struggle. There are whorehouse discussions during down time about what you want in an ideal client, and there are stunning shocks: at one point, Nora finally finds a man who has potential as a long term partner. They marry-- and he drowns on their honeymoon. 
Nora's life is out of control, but the novel is completely in the novelist's control. In her great confidence in her own powers, Shmailo moves towards the end out of the straight narrative into a series of experiments in story telling and genre. 
The bulk of the book is the grim narrative of Nora's dive into the lower depths and her grumbling return to sobriety through the efforts of a saintly trans friend who is dying of AIDS. Then, Nora begins to press her mother to repeat and explain family stories of their time in concentration camps under the Nazis: how they survived intact. She includes her mother's stories as free-standing short works, and it becomes increasingly clear that the family was not intact at all. The stories throw Nora into a near psychotic state of remembering that seems like too much for one person to bear. She says goodbye to Chrisis, her dying sobriety sponsor. She gives support to a dying stranger, money to a beggar. She notices that the world is still around her. And then come the poems, which act both as a reprise of the themes and events of the novel and also also as unnarrated evidence of Nora's talent and hopeful future. It is a gamble, to end a novel with so many passages in a different genre, but it pays off beautifully: Nora doesn't forget, perhaps doesn't even move on completely, but she can be with people. She can create.
Read more »
 Larissa Shmailo's Patient Women tells the story of Nora, a gifted young woman who comes of age in New York against heavy odds. Her Russian mother is demanding; the young men around her are uncaring; and her dependence on drink and sex leads her to a shadowy life filled with self-made demons. Yet Nora's intelligence pulls her through the difficult times—there are even moments of (very) dark humor here. As well, an appendix of poems attributed to Nora lets us into the corners of her heart and mind.
—Thaddeus Rutkowski, author of Haywire 
Larissa Shmailo's novel, Patient Women (and the title is absolutely meaningful, in so many ways), is a brutally honest wrestling match of truth-telling and sex. I had to put this book down and walk away from it more than once; it was a bit like holding a hot coal in my hands. And even though the subject matter is over the top, the writing is stylistically brilliant. Absolutely recommended!
 
—Ron Kolm, author of Suburban Ambush and editor, Evergreen Review

Larissa Shmailo's Patient Women explores the intersection of mind and body, posing several compelling philosophical questions to the reader:  Is gender biological or do we inscribe these social categories through our use of language?  Is it possible to separate one's intellect from one's physical being?  To what extent is language itself tactile and embodied?  As Shmailo teases out possible answers to these questions, she utilizes a variety of literary forms, which include diary entries, appendices, poems, and vignettes.  Formally adventurous and engaging, Shmailo's book is as artfully written as it is thought provoking, offering us stylistic innovation that is both daring and meaningful.  

—Kristina Marie Darling, author of Scorched Altar: Selected Poems &     
          Stories 2007-2014.
Christ-figures are likely to be cross-dressers in this engaging bildungsroman, which takes us on a wild ride through NYC nightclubs of the 1970's, rock-bottom blackouts, a whorehouse, and the slogan-filled rooms of recovery.  Surreal and lyrical, then bawdy and riotous, then plainspoken and tragic, Patient Women had me rooting hard for its lovable, drowning heroine to keep her head above water and let in grace.
— Anne Elliott,  www.AnneElliottStories.com
Nora, born to a holocaust survivor mother, finds herself, at the threshold of adolescence in "boring Queens". Lying about her age, her first transgression from her mother's iron rule, she begins a series of ill-fated attempts to put distance between herself and the familial web she so desperately wants to disentangle from. She reels from one dysfunctional relationship to another, druggies, pimps, losers and masochists, searching for her lovable self. This novel unfolds in a whirlwind that is sometimes dream, sometimes nightmare yet, at it's core, is an honest tale of one woman's coming to terms with her past in order to claim her present. Be ready to have your heart broken and then made whole.
—Bonny Finberg, author of Kali's Day
Larissa Shmailo's newest work, Patient Women, is an unflinching exploration of the lasting damage some people can inflict on their children. Nora, Shmailo's protagonist, evolves as she struggles to understand and heal her own self-hatred and her on-going self-destructive choices. Slogging one's way through a morass of denial and repression is a strong trope throughout this raw, honest book.  Nora is fiercely vulnerable and the sympathetic hero of her own salvation. This novel is dark, but there is hope that even the pain one lives through can cause one to create, finally, lasting and beautiful art.
—Joani Reese, author of Dead Letters (Červená Barva Press) and Night Chorus, forthcoming from Lit Fest Press
Larissa Shmailo is the editor-in-chief of the anthology Twenty-first Century Russian Poetry, poetry editor for MadHat Annual, and founder of The Feminist Poets in Low-Cut Blouses. She translated Victory over the Sun for the Los Angeles County Museum of Art's landmark restaging of the Futurist opera; the libretto is available from Červená Barva Press (2014). Larissa also has been a translator on the Bible in Russia for the Eugene A. Nida Institute for Biblical Scholarship of the American Bible Society. Larissa's collections of poetry are #specialcharacters (Unlikely Books 2014), In Paran (BlazeVOX [books] 2009), the chapbook, A Cure for Suicide (Červená Barva Press 2006), and the e-book, Fib Sequence (Argotist Ebooks 2011); her poetry CDs are The No-Net World (SongCrew 2006) and Exorcism (SongCrew 2009), for which she received the New Century Best Spoken Word Album award . She blogs at http://larissashmailo.blogspot.com/
· Paperback: 312 pages
· Publisher: BlazeVOX [books] 
· ISBN: 978-1-60964-201-3
Patient Women a Novel by Larissa Shmailo Book Preview
Read more »