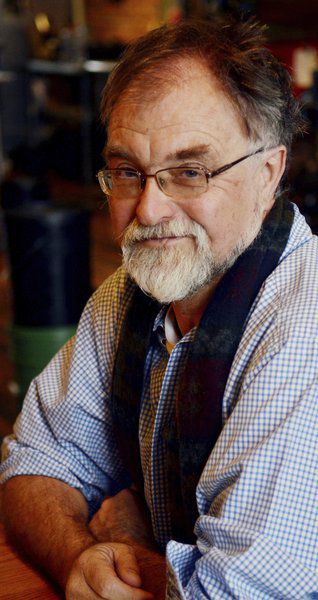 ASHTABULA — When people think about retirement, many picture life in a condo on a beach in sunny Florida. 
That's not the case with Roger Craik, emeritus professor of English at Kent State University Ashtabula, who retired last May. He's traveling, writing poetry, voice recording a collection of poems and fulfilling speaking engagements, including a recent meeting of the Cleveland Area Mensa. 
He has written several full-length poetry books. 
But one of his favorites is one he didn't write. Rather, his parents illustrated and colored it for him as a young boy — a facsimile of Robert Browning's "The Pied Piper of Hamelin, A Child's Story." 
His parents, Tom and Wendy Craik, gave it to him on his sixth birthday in 1962, when he was considered old enough to enjoy it. He remembers enjoying "The Pied Piper" being read to him as well as sensing his parents' relish in reading aloud and their pausing to point to the illustrations.
A few years ago, with his parents' permission, Craik made a copy of the treasured book in Nottingham, England, and began sending it out to friends as an email attachment.
Everyone who saw it loved it, he said.
Tom Craik penned Browning's words, nothing added or deleted, but the illustrations come entirely from his parents' imagination. They were 32 and 25 years old at the time.
In the past year, the book has been translated in Bulgarian, as well as Romanian. It's also been exhibited at the Gaudeamus International Book Fair in Bucharest. In fall 2017, "Pied Piper" will be translated in Russian, coming out in Minsk, Belarus. 
Craik said he knows why the book is popular around the world.
"It's original, intelligent and whimsical," he said. "I think it will always appeal. I do this for my parents but, more importantly, for the pleasure of other parents and their children."
In addition, Minsk Publishing is putting together a selection of poetry on emigration and Craik's poetry will be published as an article by Lyuba Perbushina of the University of Minsk. She sent Craik a large survey, asking for comments and questions on his pieces.
"It's an academic article written about me and translating my poems," he said. "I have been invited to Minsk in 2017 and I plan to go."
Craik also hopes to go to Romania, where he was a Fulbright Scholar at Oradea University in 2013-14.
"I enjoy eastern Europe," he said.
His poetry has appeared in several national poetry journals, such as "The Formalist," "Fulcrum," "The Literary Review" and "The Atlanta Review." 
English by birth and educated at the universities of Reading and Southampton, Craik has worked as a journalist, TV critic and chess columnist. Before coming to the U.S. in 1991, he worked in Turkish universities and was awarded a Beineke Fellowship to Yale in 1990. 
He's visited North Yemen, Egypt, South Africa, Tibet, Nepal, Japan, Bulgaria — where he taught during spring 2007 on a Fulbright Scholarship to Sofia University — and, more recently, the United Arab Emirates, Austria and Croatia. 
Retired or not, Craik says poetry is his passion. He writes for at least an hour over coffee each morning before breakfast.
His newest book of poems is coming out from BlazeVox, in Buffalo, which published his last full-length collection "Down Stranger Roads" (2014), and also "The Pied Piper." 
But wherever Craik travels, Ashtabula is still his home base.
"I am continually grateful for (former KSU Ashtabula) Dean John Mahan for hiring me in 1991 and giving me this marvelous life," he said. "I mention him at all my talks. I'm so fortunate."
Leave a Reply